---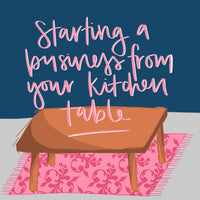 Join Cath from Hope and Ginger for an introductory session about starting a business from your kitchen table. 
Thursday 15 October 2020 - 8pm-9:30pm via Zoom (link will be sent following purchase)
In this 1.5 hour session, Cath will be sharing her story of starting Hope and Ginger as well as giving key tips around:
- Building a strong brand
- Working out what products are commercially viable and how to price them
- Business nuts and bolts you need to know when you are getting started
PLUS - you will be able to submit questions you have to Cath before the event and she will answer as many of them as she can.
Places are limited so book your spot today.